B8 Architecture Triumphs at Design Middle East Awards 2023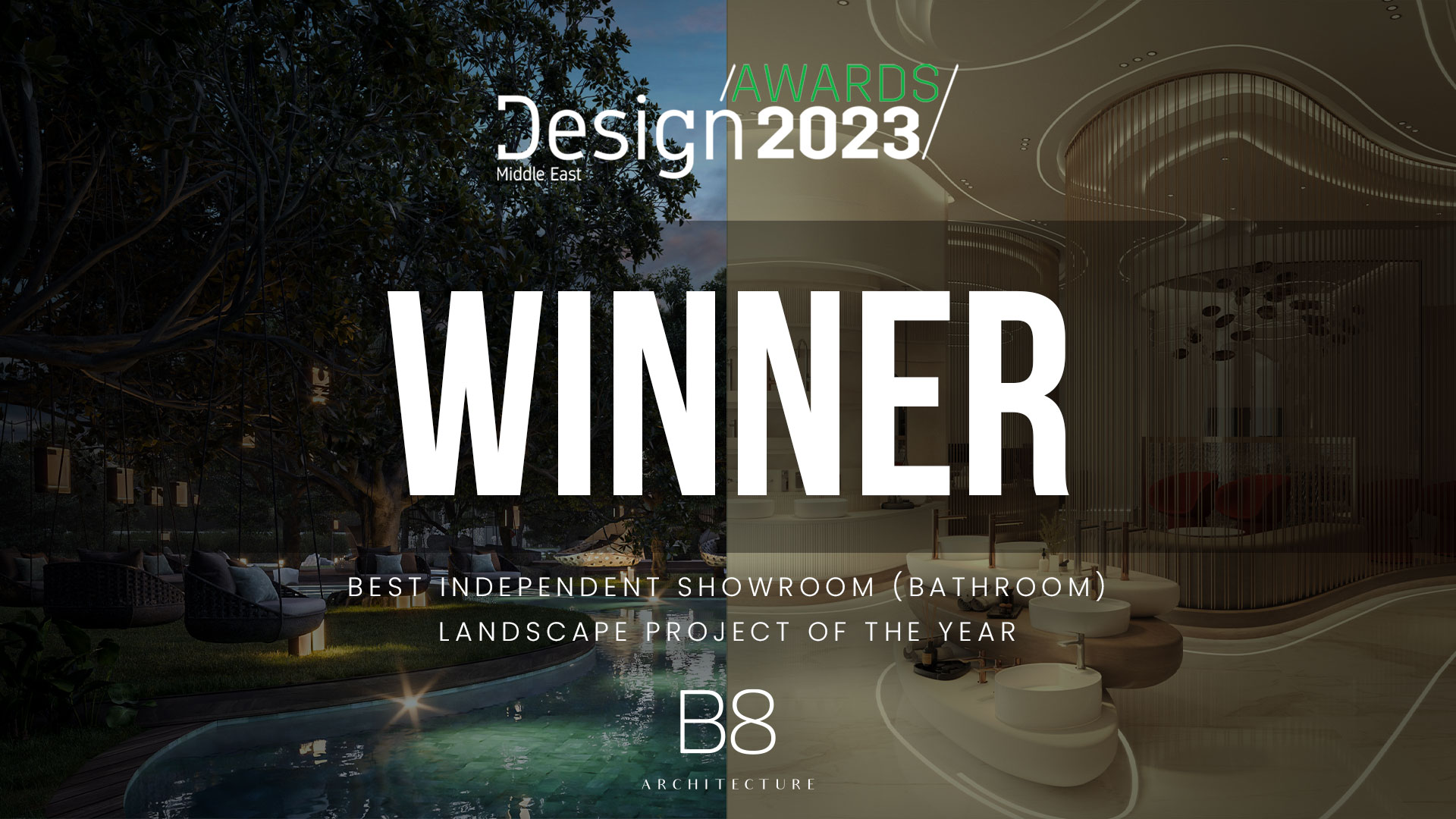 B8 Architecture, Where Personal Touch Meets Uniqueness.
In a momentous event that unfolded at the prestigious "Sofitel Dubai The Palm," B8 Architecture proudly walked away with two coveted awards at the Design Middle East Awards 2023. The recognition we received for "Best Independent Showroom (Bathroom)" and "Landscape Project of the Year" is a testament to our unwavering commitment to design excellence, as well as our passion for creating spaces that not only please our clients but also leave a lasting impression on the industry.
At B8 Architecture, our primary goal has always been the complete satisfaction of our clients. We believe in infusing a personal touch into every project, ensuring that it resonates with the unique needs and desires of the people who will inhabit the spaces we create. This personalized approach, combined with the unmistakable B8 style that sets us apart, has been our guiding principle since our inception.
While these awards are a source of pride and joy for us, they also serve as a reminder that our dedication to excellence in architecture and design has not gone unnoticed. As we celebrated our victories at the Design Middle East Awards 2023, we were reminded of the countless hours of hard work, creativity, and innovation that our team pours into every project. These accolades are a testament to the commitment of every member of the B8 Architecture family.
We extend our heartfelt gratitude to the Design Middle East Awards 2023 for recognizing our efforts and passion for design. These awards provide us with renewed motivation to continue pushing the boundaries of creativity and delivering architectural solutions that are nothing short of extraordinary.
Our success at the Design Middle East Awards is not just a feather in our cap; it's a celebration of our journey, our dedication, and our mission to make the world a more beautiful place, one project at a time. We remain committed to the values that have defined us and to the pursuit of excellence in architecture and design. As we move forward, we look forward to taking on new challenges and pushing the boundaries of what is possible, all while ensuring the satisfaction of our clients remains at the heart of everything we do.
Amidst the glitz and glamour of the gala, something unexpected happened. The presenters paused the event and, with a twinkle in their eyes, requested a thunderous round of applause for B8 Architecture. They declared us the most cheerful and optimistic company they had ever encountered at a gala. It was true; we celebrated everything, whether we won or not, always radiating joy and enthusiasm. In a humorous twist, they even presented us with the "Funniest Company Award" and coaxed our entire team to join them on the stage. It was a moment of pure, lighthearted delight that perfectly captured the spirit of B8 Architecture – where celebration and laughter are an integral part of our design journey.
Thank you for your continued support, and here's to many more years of architectural excellence and creative innovation. B8 Architecture, where the personal touch meets uniqueness, and design knows no bounds.
Infinitum is not the limit!
Landscape Project of the Year : Villa KB
Best Independent Showroom (Bathroom) : Nok Showroom